Online Corporate Hospitality for Keith Prowse
We are delighted to have worked for Keith Prowse since 2001.  We have seen them grow for a independent company to be an integral and significant part of the Compass Group.  We have worked with them as they have expanded their services from general corporate hospitality through development of their premier bespoke corporate services, and more recently on highly invovative booking sites for the largest hospitality events in the UK.  Along the way, we were delighted to be selected for the developement of their core booking and admin system, in preference to their far east developers: a case of bring back "On Shore" work that might have been carried out "Off Shore"

With online transactions being an increasing important part of their buisness, our systems are subject to the most rigorous enforcement of PCI Compliance standards.  We worked closely with the Keith Prowse IT and security teams to comply with all the standards and requirements that were thrown at us, whilst still allowing their sales and marketing teams to continue to innovate and develop through the web. 
Hospitality Bespoke Online
Spark Data Systems help Keith Prowse to meet their requirements for international ticket sales using their latest Umbraco driven site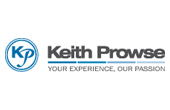 Keith Prowse
Keith Prowse