Global Services Ltd was founded in 1995 to provide engineering spares to super yachts. Since then, the range of spares has broadened to cover all areas of yacht requirements.

Spark has been working with Global for over 5 years. We originally provided support for their legacy application: an Access front end with a SQL Server back end.

That application didn't provide the flexibility and management information they needed to get ahead. After having working with us on the legacy application, Global were confident to come to Spark for the development of their replacement.

Spark specified and developed a new browser based application and re-designed the SQL Server database, gives Global a lot more options in the way they run their business. Clients now logon to interrogate live stock levels and place orders. Sales analysis is greatly improved as well.

Since the introduction of the online system, sales and productivity are up! Spark continues to support and develop the site.

See the site at www.globalservicesltd.co.uk
The new implementation and Spark's involvement has enabled us to substantially increase our net profit. The productivity of our sales people has soared.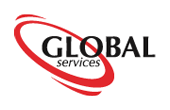 Richard Gardiner
MD Global Services